The premier league champions have confirmed the signing of Earing Braut Halland. The citizens have moved swiftly on their priorities and have bagged the brightest striker prospect in world football right now. The fight for the Norwegian forward wasn't easy as there was tough competition from many European elites including Barcelona, Bayern Munich, and even Real Madrid.
Halland and his camp have agreed to a 5-year deal with the club and a transfer fee of 61 million dollars in total. The striker has officially left the german club, Borrusia Dortmund. 370,000 euros per week have been decided for wages.
Ever since Sergio Aguero left the blue side of Manchester in 2021, Pep Guardiola has been left without a true striker at his disposal. Therefore he has been forced to play his trademark false nine strategies for the entire past campaign using Gabriel Jesus as the man up top. Jesus has been heavily linked with a move away from City in 2022, potentially to Arsenal. Therefore the arrival of Halland couldn't be more appropriate. The team will have a strong focal point in the attacking third of the field now and this will be cardinal in crucial and close matches.
Erling Haaland En Route To Manchester City
Halland has some roots connected to Manchester city as his father played for the English club from 200-2003. He was born the same month that his father signed for City and his joining the club to continue his father's legacy seems almost destined. He has blue running through his veins and he is officially a blue.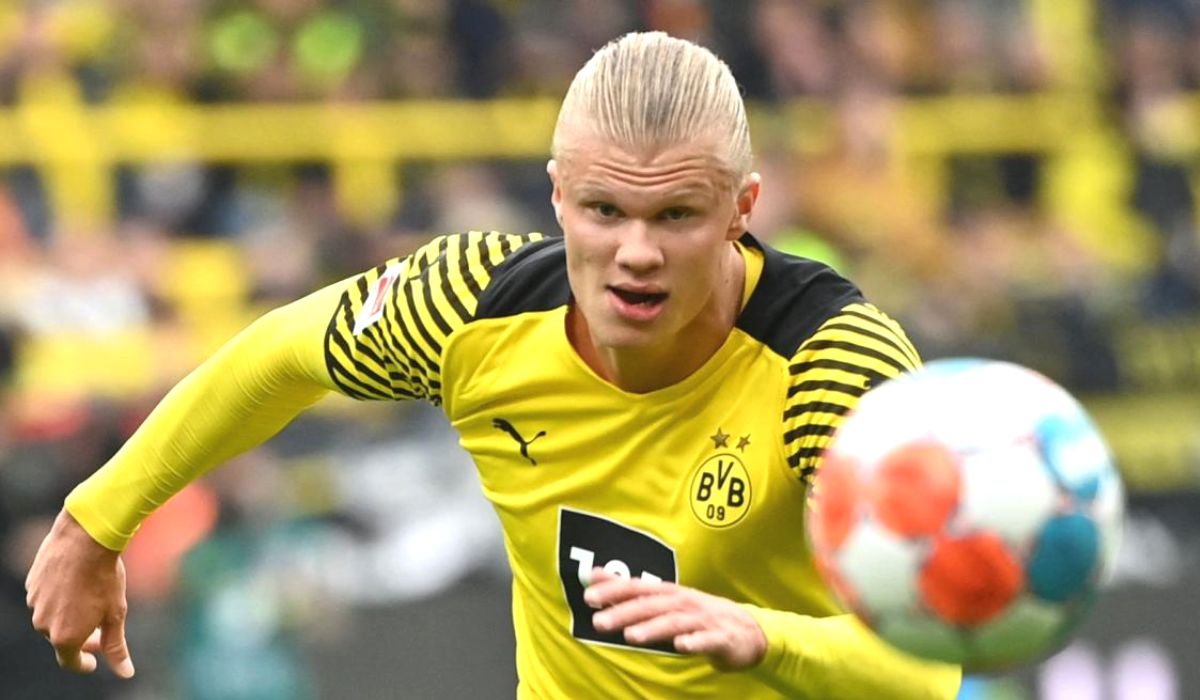 Manchester City has dominated the Premier League, winning 4 out of the last 5 titles and many other domestic cups during the same time span. Guardiola has created a monster of a team that works with extreme efficiency in one single unit, with all the players complementing the others. The midfield comprising of the likes of Kevin De Bruyne and Bernado Silva is one the best if not the best in the world. And the defensive line is extremely solid with the likes of Ruben Dias and John Stones.
Even after having such a formidable squad Pep is yet to win the glorious Champions League title in his stint at Manchester City. They have come close many times and were also in the finals in 2021 but lost to Chelsea. One major void that Cityzens have felt in the squad is that of a pure goalscoring number 9 to come in clutch in times of need.
Manchester City has players who can create goal-scoring opportunities almost at will but what has been lacking is the main man up top who can covert those chances and win the match for City. There isn't a more talented and suitable option out there to fill that void than Earling Halland. With numbers, the likes of which have only been seen on PlayStation, Halland has scored mind-boggling 126 goals in 176 career appliances.
He has the best minutes per goal ratio in both Bundesliga and UCL and to think that he is only 21 and will only get better sends shivers down the spine. He is a monster who if flourished under Pep Guardiola, can take over the world. The linkup between De Bruyne and Halland is scary to even think about and now it's a reality.
To think about how dominant Manchester city has been in the Premier League now they have a world-class striker who will increase their goal tally by a big margin, it's almost frightening to think that from the perspective of other clubs like Liverpool and Chelsea. The Norweigian might be the final missing piece in the masterpiece of a team that Pep has created.
Every on the blue side of Manchester would be hoping that this signing will help immensely in bringing the much-awaited Champions League title to the club. Earling has expressed his excitement about joining City and said how this is his childhood club and it's a dream come true for him to be joining Manchester city making his whole family extremely proud. He also expressed his admiration for City's style of play and how he believes that he can fit right into Pep's system.
He recognizes and acknowledges the opportunities that he will be able to grab with this squad. His being born in England will help a lot in easily getting accustomed to the British environment. Erling Halland will be accompanied by another sensational forward, River Plate's Julian Alvarez. With these two leading the attack the City squad really does look destined for European glory.
Read More:
Steffen Tigges Passes Medical With FC Köln!
Jordan Torunarigha, Defender Set to Leave Hertha Berlin
Alexandre Lacazette Returns After 5 Years To The Lyon On A Free Transfer
The Norwegian is like a machine specially programmed for being unstoppable and scoring goals. His pace can give nightmares to any defender on the face of the planet, his strength is on par with the biggest Centre back in today's game, and his shot power and infallible accuracy in front of the goal make him almost inevitable. With teammates like Phil Foden, Kevin de Bruyne, Bernado Silva and Cancelo providing goal-scoring opportunities on a silver platter throughout the game makes the prospect for City rivals is rather dreadful.
With this squad, Halland can quite reasonably give Kylian Mbappe a run for his money for the future Ballon d'Or awards. These two players will mark the next great era of football and Earling Halland has put himself in a great position to achieve his maximum potential. This Norwegian machine is going to tear up the hardest league in the world and all of us will be witnesses to a potential giant of football in the making.